Diulang tahun raja Thailand yang ke 80 pada tanggal 5 Desember 2006
yang lalu, dicanangkan program penanaman sembilan juta pohon
"Planting Nine Million Trees for King Celebration" dari jenis
Cassia fistula atau di negara kita dikenal dengan johar.
Gerakan penanaman sembilan juta pohon ini bertujuan untuk
menghijaukan kembali lahan-lahan yang gundul, termasuk penghijauan
di kota-kota.


Johar (Cassia fistula) atau The Tree of King sebagai
pohon penghijauan di Thailand
Angka sembian dalam program penanaman sembilan juta pohon ini
diambil dari periode pemerintahan raja Thailand saat ini, yang
dikenal sebagai Rama IX, sebagai penguasa wangsa Chakri.  Sedangkan
pemilihan jenis Ratchaphuek (Cassia fistula) sebagai pohon penghijauan
selain jenis ini mempunyai bunga yang berwarna kuning juga karena
serbuk sari bunga ini berbentuk angka 9 dalam aksara Thailand.
Bunga warna kuning bagi masyarakat Thailand mempunyai arti yang sakral.
Bunga kuning merupakan simbol bagi buddha sebagai agama nasional dan
raja Bhumibol Adulyadej yang lahir pada hari senin, dimana simbol hari
senin adalah kuning.  Setiap hari bagi masyarakat Thailand mempunyai
simbol sendiri, seperti Selasa adalah merah jambu, Rabu-hijau,
Kamis-oranye, Jum'at-biru, Sabtu-ungu dan Minggu-merah.  Nuangsa kuning
menjadi corak dasar untuk berbagai keperluan, seperti pakaian,
umbul-umbul, topi dan sebagainya.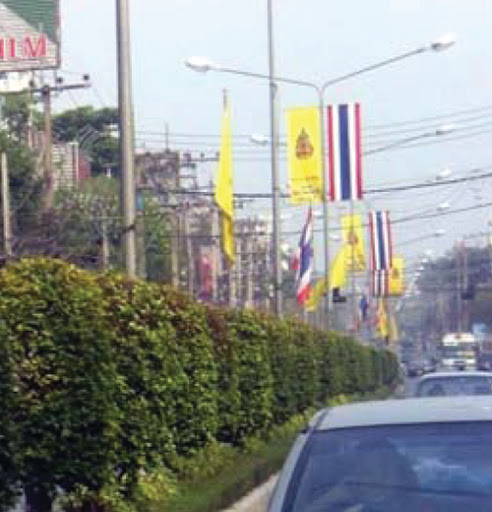 Nuangsa kuning menjadi corak sakral berbagai macam atribut
Sejak dicanangkan gerakan penghijauan tersebut tampak dilakukan
penanaman pohon johar di mana-mana, mulai dari sepanjang jalan,
halaman perkantoran, sekolah sampai halaman rumah.  Penanaman tidak
hanya dilakukan di kota tetapi juga ke desa-desa, sampai ke daerah-
daerah yang perlu dijhiaukan.  Program yang dicanangkan selama lima
tahun ini diharapkan akan menjadikan Thailand hijau di tahun 2011 nanti.
Kepedulian terhadap lingkungan hidup di Thailand dalam bentuk gerakan
penghijaun seperti ini kerap dilakukan.  Dengan memanfaatkan momentum
penting dijadikan awal bagi berbagai gerakan pelestarian lingkungan.
Salah satu bentuk gerakan yang juga pernah dilakukan adalah gerakan penanaman
60 juta pohon.  Gerakan ini merupakan gerakan massal yang menggerakan
semua masyarakat Thailand.  Semangat yang diusung dalam gerakan ini
adalah setiap jiwa diwajibkan menanam satu pohon sebagai sumberdaya
yang memiliki jasa lingkungan diperlukan untuk hidupnya.  Dengan
populasi Thailand sebesar 60 juta, diharapkan akan tertanam sejumlah
60 juta pohon.